About Me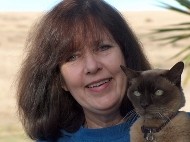 Hi, I am Gail Marquis and I live the Western Cape on a small holding with my husband Andy, our two Border Collies, Bella and Rep, and a very talkative budgie, Chris.
I have worked with a variety of mediums, since completing a commercial art course at the Natal Technical College in the early 70's. I have also been employed as a graphic artist at several ad agencies.
  I have a gallery at home with my current and previous pets, and would love to do the same for you. For me, it's all about the passion. It's the expression in the face, particularly in the eyes, which really captures the essence of the 'subject'. 
Since I cannot experience your pet first hand, it's all about the moment seen through a lens of a camera – which is, I guess, how moments are turned into memories.  I turn these into works of art - worthy of remembrance, as their lives are, and will be.